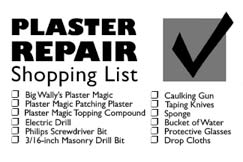 What kind of tools do you need for plaster repair with Plaster Magic®?
It's actually not that long a list – as a homeowner you may already have everything you need. If you're a contractor, you're certainly ready to jump right in. Most everything you need comes in the Plaster Magic® kit.
Beyond that, you'll need some cool, clean water and a mixing bucket or pail for the patching plaster. It's also wise to wear safety glasses.
In the following video, Rory Brennan, the founder of Plaster Magic®, will walk you through the things you'll need.
He'll also give you some quick tips on how to use the spray-in conditioner, the adhesive and the patching plaster.
As always, if you have any questions for Rory about tools, materials, or anything pertaining to plaster repair and plaster ceiling repair, email us at info@plastermagic.com